So you can be sure that it is not without good reason that some of the world's finest watchmakers (among them such heavyweights as Rolex, Omega, and Seiko) have sought to link their products to the excitement, elegance and cachet that the public has learned to associate with James Bond, the gentleman secret agent with a licence to kill. Most recently it's been Omega that has been peppering magazines and newspapers around the world with images of James Bond wearing their "Seamaster Professional" model with the legend "Selected by James Bond." Note that this is not an endorsement by Pierce Brosnan, but rather by James Bond. Despite what 007 told Fatima Blush in NEVER SAY NEVER AGAIN, James Bond does indeed do endorsements.
Naturally, it was Ian Fleming who started it all. He knew that a gentleman's choice of timepiece says as much about him as does his Saville Row suit. He took the time to specify Bond's choice. According to Fleming, and he should know, Bond wears a Rolex Oyster Perpetual Chronometer on an expanding metal bracelet. He tells us so in chapter 15 of On Her Majesty's Secret Service .

The good people at Rolex would surely have been surprised by Bond's jury-rigged use of his Oyster Perpetual as a knuckle-duster. In chapter 16 of OHMSS Bond switches his watch to his right hand and loops the band around his fist so that the heavy metal and crystal watchcase sits atop his middle knuckles. The metal watch bracelet is clutched in his palm. Just minutes later Bond makes use of this improvised "Q" device when he kills a guard by punching him so hard that the Rolex's crystal shatters against his jaw.

But Bond seldom needs to exercise his creativity. "Q" always crafts a deathray or miniaturized howitzer, or some such, into an ostensibly innocuous object. That is never truer than when the subject is a wristwatch. They have frequently been the means by which some incredible device has been concealed.




Unfortunately, The British Secret Service doesn't hold a monopoly on the idea, and Bond has occasionally found himself on the wrong end of a tricky timepiece's treachery.

In fact, it was S.P.E.C.T.R.E. that showed the movie going public the very first two-timing timepiece. Übermensch Red Grant was seen in the pre-credits sequence of FROM RUSSIA WITH LOVE, dealing an untimely death to a Bond look-a-like by means of a wristwatch that featured a garrote wire coiled inside.


When unspooled to full length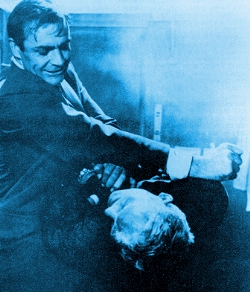 by pulling on the stem, it could be looped around the hapless victim's throat. It worked fine in rehearsal, but when Grant tried it on the real James Bond it was Grant who wound up wearing the garrote.

After this rather promising start, the opposition's creativity with clocks waned somewhat. GOLDFINGER was the first "gadget intensive" double-oh seven film, though certainly not the last or least. But the best trick timepiece the opposition could muster was just a wall clock with a peephole that allowed Mai Ling to keep tabs on Bond aboard Goldfinger s private jet. It didn't fool Bond who easily thwarted it by the simple expedient of hanging his coat over it. Score: Bond 1, Goldfinger 0.

GOLDFINGER was the third film in the series, and although Bond had been shown to wear a Rolex, there had been no special gadgets associated with it yet. In fact, the use of Bond's wristwatches, used so creatively later in the film series, stumbled badly coming out of the starting block. On the very first day of filming DR.NO it was discovered the Sean Connery hadn't been given a Rolex watch to wear. The scene required it, so nothing more could be done until one could be procured. Director Terence Young, himself a former real-life "James Bond", stepped in to save the day by lending Connery his own Rolex. Filming proceeded and the rest, as they say, is cinema history!

Bond's first real chance to show what tricks the good guys had up their sleeve, both metaphorically and literally, didn't come until THUNDERBALL.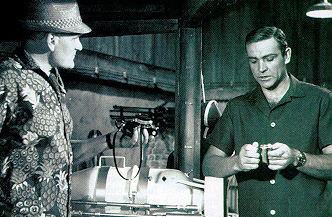 "Q" leaves his workshop to outfit Bond with his latest gear "in the field". Only "Q" could manage to complain about a free trip to the Bahamas. He brings with him a watch he describes as a Rolex, but which doesn't look like any model I ve been able to track down.
The trick to this watch is that it functions as a Geiger counter. If you compare this to the Geiger counter issued to 007 in DR.NO you'll see how far Q-branch have come. Not only does this Geiger counter fit on Bond's wrist, it also tells time!
With the arrival of Roger Moore came the arrival of the really far out wristwatch gadgets. One of the wildest was an ordinary looking Rolex in Moore's debut Bond film, LIVE AND LET DIE.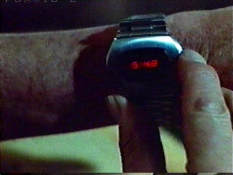 This film is one of only two Bond films in which Desmond Llewelyn ("Q") fails to appear. Instead it is Miss Moneypenny who brings Moore his gadget watch. The film begins with Moore wearing a Pulsar digital watch.

This was the very first digital watch on the market. You had to press a button to activate the glowing red digits. Otherwise you couldn't tell the time. It was groundbreaking technology at the time and the watch is worth more to collectors today than it cost new back then.

(A brief aside: The film editor was really on the ball here. When we see Moore check the time on his Pulsar it reads "5:48". When we get a close up of a Rolex four minutes later, the time is "5:52". Four minutes has passed in James Bond's world, and four minutes has passed in the audience's world, too. They match up. When you think of all the separately filmed elements that are edited together to form the final print of the film you can appreciate that this is the sort of thing that is done wrong 99.9% of the time. This is that remaining 0.01%. Someone at EON was paying attention and took the trouble to get this very little detail right!)

The Pulsar Moore wears is replaced just ten minutes into the film by a Rolex with a couple of way out features:

Moore explains to "M" that pulling the stem on this ordinary looking Rolex wristwatch, activates a "Hyper intensified magnetic field" "powerful enough to even deflect the path of a bullet at long range." But of course Moore uses it, instead, to whisk a spoon off of "M"s coffee saucer, and later, to unzip a damsel's dress. Perhaps just as well, after all, that "Q" wasn't in this film to witness these uses of his hard work!

As a visual cue that the magnetic field is engaged the otherwise white number markings on the watch turn to red. Given the demonstrated power of this watch later in the film, a more obvious visual would be the fact that every metal object within 50ft should be flying though the air and attaching itself to our hero's wrist! But this doesn't happen, and only the objects Bond wants to be attracted ever seem to be.

One has to wonder why this "bullet deflecting watch" isn't issued to Bond on every mission from here on out. There's certainly no shortage of baddies taking pot shots at our hero. Yet after LIVE AND LET DIE, this estimable feature is never seen again!

There's an inexplicable continuity error involving this watch. Having given the audience a visual and verbal description of how to activate the magnetic field by pulling on the watch stem, the filmmakers proceed through out the rest of the film to use a completely different method. On two separate occasions we see Moore, in close up, activating the magnetic field by turning the watch bezel instead of pulling the stem. Go figure.

You've got to admit, a Hyper intensified Magnetic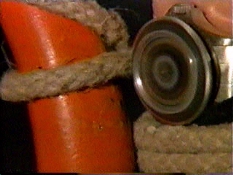 Field built into a wristwatch is impressive enough, but the good folks at EON aren't done with this watch yet. Not by half. The top of this watch can be set spinning so the serrated edge of the bezel acts like a miniature buzz saw!
I quite like this gimmick. It's not too complicated and might actually work. It's certainly a feature that stands Moore in good stead near the end of the film when he uses it to cut the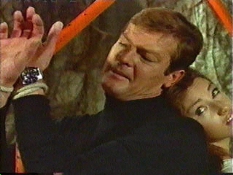 ropes that secure him to an "unnecessarily slow dipping mechanism"
In THE SPY WHO LOVED ME, Moore's Rolex has been retired in favour of a Seiko that has no defensive capabilities, but is, instead, a communications device. It displays messages and is seen to print a ticker-tape message from "M".
This watch is rather passive compared with the previous Rolex, but in MOONRAKER the Seiko issued to Moore gets things going again with a bang.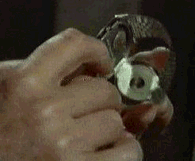 When Moore faces imminent death in the blast pit below a Moonraker Space Shuttle about to depart, he pops open the rear of the watchcase to reveal a tiny coil of explosive plastique.
He affixes the explosive to the exit
hatch lock, and then, going back to his watch, pulls out the upper right control button from the watchcase to produce a long detonator wire.
This he plugs this into the explosive, which he detonates by pushing on the right side of the watchcase.
All these tiny pieces are very nicely made, and are crafted with excellent detail. The explosive coil even has a tiny metal receptacle at the center where the detonator wire plugs in. It's a nice looking piece of work by the Effects crew.
There are redeeming touches in MOONRAKER despite the fact that it is often at the bottom of people's list of favorite Bond films. This scene in the blast pit is one of them because it's a carry- over from Fleming's novel. The situation above is a somewhat morphed, but still recognizable version of the situation that Bond and the heroine (in the novel it's Gala Brand) find themselves in. They are left to die in a room that is open onto the blast pit of the Moonraker missile. In the novel, their means of escape is different, but the initial situation is the same. It is always a pleasure to see some of Fleming's material translated to film and so it deserves a mention here.
FOR YOUR EYES ONLYsees a return
to Bond's watch being merely a communications device, and not a weapon of any kind. Moore is still wearing a Seiko. This one allows for a digital message to scroll across the top of the watchface, and also for audible communication similar to Dick Tracy's two-way-wrist-radio. Here the features are used purely for gag value at the end of the film. But for me the real entertainment of the scene comes from catching two goofs.
First, when Moore places the watch on the parrot-stand, the watchband is fully open. But when the parrot tosses the watch into the water and we see it drifting to the bottom, the watchband has mysteriously closed itself. The second goof is a very clearly visible "invisible" nylon filament line attached to the descending watch in the scene.
(Don't get me wrong. I don't point these out as criticism. I find these newly given up little "secrets" actually endear the films to me all the more. I know the films weren t meant to be scrutinized with freeze frame off a laser disc on a 32" TV set like I do, but I enjoy finding new little quirks like these.)
The films seem almost to alternate the functions of Bond's wristwatch. One time the watch is passive (communications, Geiger counter, homing device), and the next time it is aggressive (laser beam, buzz saw, explosive), and then back again to passive, and so on.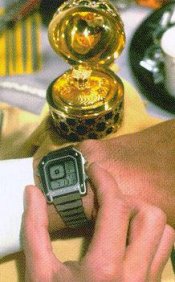 So it's unusual that after the passive functions of 007's watch in FYEO, that the watch in OCTOPUSSY should also be passive. The feature this time around is that the watch monitors the tiny homing transmitter placed into the imitation Faberge egg that Moore allows Magda to steal (after sleeping with her first, of course).

The egg is also wired for sound, and sends its signals to double-oh seven's special Mont Blanc fountain pen.

In 1983 Bond fans were doubly blessed.

While Moore was running through the jungles of India, Sean Connery had donned his 007 livery once again to star in the only serious non-EON James Bond production, NEVER SAY NEVER AGAIN. Q is here (Alec McCowen). Humour is still a part of his scene, and a wristwatch is still part of the equipment he issues to Bond. We see this when Bond uses a concealed laser beam to cut himself free from a set of manacles. In a unique twist, the gadget is not contained in the watch itself, but in the clasp of the watchband!

Timothy Dalton got to play with only a trick timepiece, but it wasn't a wristwatch. In LICENCE TO KILL, Q gives Bond an assortment of items, which include an exploding alarm clock. Unfortunately for us, Bond never gets a chance to use it.

In GOLDENEYE, Pierce Brosnan's 007 debut, he was issued an Omega Seamaster Professional with two, count 'em, two special devices.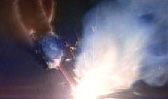 While locked within a Russian military train, Natalya Simonova impatiently commands Bond, "Don' t just stand there, get us OUT of here!" He obeys her edict by using his Omega's built in laser beam to cut a hole through the floor.
The feature is similar to the one in NEVER SAY NEVER AGAIN, but with two exceptions: 1) The laser comes out of the watch itself instead of the out of the watch strap buckle. And, 2) this is a much classier looking wristwatch by far!
The second Omega feature shown actually works against Bond.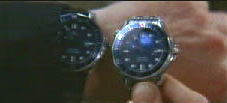 When Alec Trevelyan examines Bond's personal effects after having captured him, he recognizes several familiar items. In fact, he actually inquires after "good old Q." Trevelyan still wears his own, service issue, Omega Seamaster Professional, and compares Bond's "new model" against his own.
"Do I still press here?" he inquires. Suiting action to the word, Trevelyan unwittingly does himself a good turn. Pressing the button shuts off the countdown on the explosive device which Bond had recently rigged.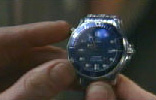 Fortunately for Bond, England, the world,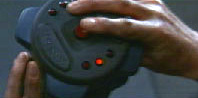 and film-going audiences everywhere, Bond's sporting a Q-device too new for Trevelyan to know about: an exploding pen. Supergeek Boris Grishenko obligingly activates it and initiates what is by now virtually mandatory in a James Bond film: the explosive destruction of the villain's HQ.
In TOMORROW NEVER DIES the hidden gadget in the Omega has changed yet again. We have to wait almost until the end of the film to see it.
A small piece is made to be separated from the watch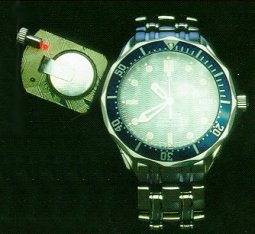 and activated remotely via radio signal from the parent unit. Bond uses his own native cunning to make this feature work for him even better than designed by Q.
First, he attaches the tiny remote unit with a micro explosive to the side of an ordinary glass jar. Next he pulls the pin off a "lemon" grenade so that the only thing keeping the grenade from exploding is the spring-loaded "spoon" still attached to the grenade. Holding the grenade carefully, Bond slips it into the jar so that the spoon is held in place.
Later, when needed, Bond uses his Omega to send a signal to receiver attached to the side of the glass jar which sets off the micro-explosive, shattering the jar, releasing the spring-loaded spoon and allowing the grenade to go BOOM! It s'a sequence that would make Rube Goldberg proud!
I'm especially fond of this scene because it allows Bond to use his own wits instead of just activating one of Q's inventions. We still get the fun "Q-device", but not at the expense of Bond taking a back seat to the gadget. That had usually been the case during the Moore era when gadgets were king.
In TND Brosnan s Bond is allowed to show his own creativity and improvisation. It s a link back to that scene long ago in Ian Fleming s novel OHMSS when Bond improvised a knuckle-duster using his Rolex.
That's one of the things I like so much about the Brosnan Bond. Bond is totally up to date, but with strong, recognizable links to his early days. It s a delicate balancing act to pull off, but one that EON is achieving masterfully.
So, (to overwork an analogy) just like the hands of a wristwatch moving always forward only to return to where they began, in the end, with the Brosnan Bond, we come full circle. As the song says, " Everything old is new again."
From the earliest days through to the most modern Bond film, wristwatches have been featured prominently. They ve been used as a weapon, as a means for escape, as a way to get and send messages. They've been the focus for comedy, and simply as an element of that famous "Double-Oh Seven" style.