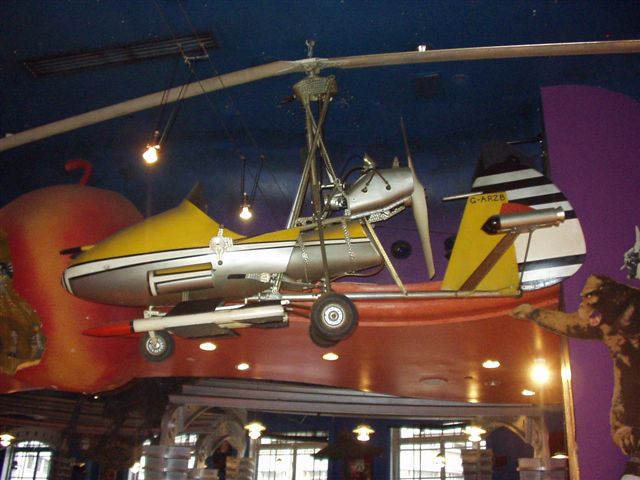 "Little Nellie", som finns med i filmen "You Only Live Twice".

Beskrivning:
När Bond skall utforska en vulkanplats använder han helikoptern, en


liten nätt sak utrustad med raketer och maskingevär. Autogyrhelikoptern


är en liten perfekt leksak att flyga med. Den får plats i ett par större


resväskor. Den skulle kunna användas till och från jobbet eller tillskolan.


Det gäller bara att hitta en parkeringsplats utanför dörren. En Q-pryl som


absolut skulle kunna funka i verkliga livet och som jag ger toppbetyget.

Ses i filmen You Only Live Twice.
Denna minihelikopter är inget att skratta åt upptäcker Bond ganska snabbt. En titt på vapenlistan och man förstår varför. Trots sin ringa storlek så hittar vi två stycken kulsprutor, två stycken raketpaket, två stycken värmesökande robotar, två stycken eldkastare, två stycken rökkanoner och några minor som kan släppas från luften. Don't mess with Nellie; vilket några av Blofelds helikopterpiloter upptäcker, med dödlig utgång...

Little Nellie

Description: Contained in four alligator suitcases, this "little girl" has everything to stop SPECTRE helicopters.Beskrivning: Återfinns i fyra alligator resväskor, denna "lilla flicka" har allt för att stoppa SPECTER helikoptrar.
It had two machine guns, two forward firing rocket launchers, heat-seeking air-to-air missiles, two flame guns, two smoke ejectors, and aerial mines.

Det hade två kulsprutor, två fram skjuta raketer, värme-söker air-to-air missiler, två lågan vapen, två rök ejectors, och luft gruvor.