Donations/Gåvor James Bond Museum
Contact 007museum@telia.com 0046-0481-12960, James Bond Museum & Shop Emmabodav.20, 382 45 Nybro, Sweden Nybro. info 007 fanclub
Hyr hela James Bond museet Företag Event Open Daily 10 -17 (closed13-14) Sat 10.00-14.00 Sunday closed 47 years, 22 films,billions of fans!
Bmw Dvd/Vhs Swatch Bic Bollinger Corgi Posters Literature Cd / Lp Game Links PPKGuns Member Guestbook
Mediainfo Buy/Köpinfo
Chess set James Bond 007 By Little Lead Soldiers
Chess set James Bond 007 By Little Lead Soldiers

Set complet with 32 figures die cast with superb finish.
James Bond, Miss Money Penny, Q, M, felix Leiter, Dr No, Goldfinger, Oddjob, Rosa Kleeb and Octopussy. the Bond's Team pawns modelledas Honney ryder, The Bond's vilains pawns modelled as Jill massterson painted gold. The Set Chess is complet & 100 % ORIGINAL.
Mint In Box PERFECT C10 + :
More details!!

* With Instructions
* Each Figures Die cast scale 1/43°
* Two fitted drawers in display case printed with chess board.
* Very luxurious presentation with compartments separated out of dark red velvet.
James Bond chess with Kronsteen (or Number 5). He is a member of S.P.E.C.T.E.R., a criminal organization. He is in charge of the plan to steal a decoder from the Russians with the use of British and Soviet agents.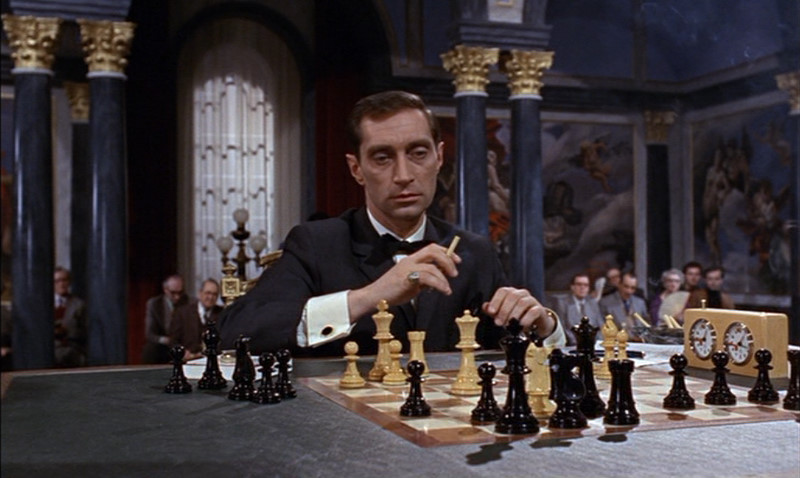 Copyright © 2001-2009 www.James Bond Museum.com / www.007Museum.com All Rights Reserved
James Bond Materials© 1962 - 2009 United Artists Corporation and Danjaq, LLC. 007 Gun Logo© 1962 United Artists Corporation and Danjaq, LLC. 007 Gun Logo, Iris Logo, JAMES BOND and all other James Bond related trademarks - Danjaq, LLC. All Rights Reserved. Copyright