James Bond Homepage
007museum@telia.com
Donations/Gåvor
James Bond Museum



EON Productions movies


1. Dr No 1962
2. From Russia With Love 1963
3. Goldfinger 1964
4. Thunderball 1965
5. You Only Live Twice 1967
1967
6. On Her Majesty`s Secret Service
7. Diamonds Are Forever1971
8. Live And Let Die 1973
9. The Man With The Golden Gun
10.The Spy Who Loved Me
11.Moonraker 1979
12.For Your Eyes Only 1981
13.Octopussy 1983
14.A View To A Kill 1985
15.The Living Daylights 1987
16.Licence To Kill 1989
17.Goldeneye 1995
18.Tomorrow Never Dies1997
19.The World Is Not Enough
20.Die Another Day 2002
21.Casino Royale 2006
22.Quantum Of Solace 2008
23.James Bond 23 2012
24.James Bond 24

Not included in
Bondserie or
EON Productions
Casino Royale 1954
Casino Royale 1967
Never Say Never Again 1983

Producer
Albert "Cubby"Broccoli
Harry Saltzman
Barbara Broccoli
Michael G,Wilson

Writers to all Bond books
Ian Fleming
Amis Kingsley
Raymond Benson
John Gardner
Charlie Higson
Sebastian Faulks
Jeffery Deaver
Neal Purvis screenwriter
Robert Wade screenwriter
Bondbooks

James Bond actors
Barry Nelson
Sean Connery
George Lazenby
Roger Moore
Timothy Dalton
Pierce Brosnan
Daniel Craig

James Bond Composers
Monty Norman 1
John Barry 11
George Martin 1
Marvin Hamlisch 1
Bill Conti 1
Michael Kamen 1
Eric Serra 1
David Arnold 5
James Bond Music
22 Best Bondsoundtrack

Bondgirls
Honey Ryder Ursula Andress
Britt Ekland
Izabella Scorupco
Maud Adams
Kristina Wayborn
Mary Stavin
Halle Berry JINX

Bond Villians
Jaws (Rickard Kiel) Pinewood Studios
Bond composer John Barry dies aged 77. 31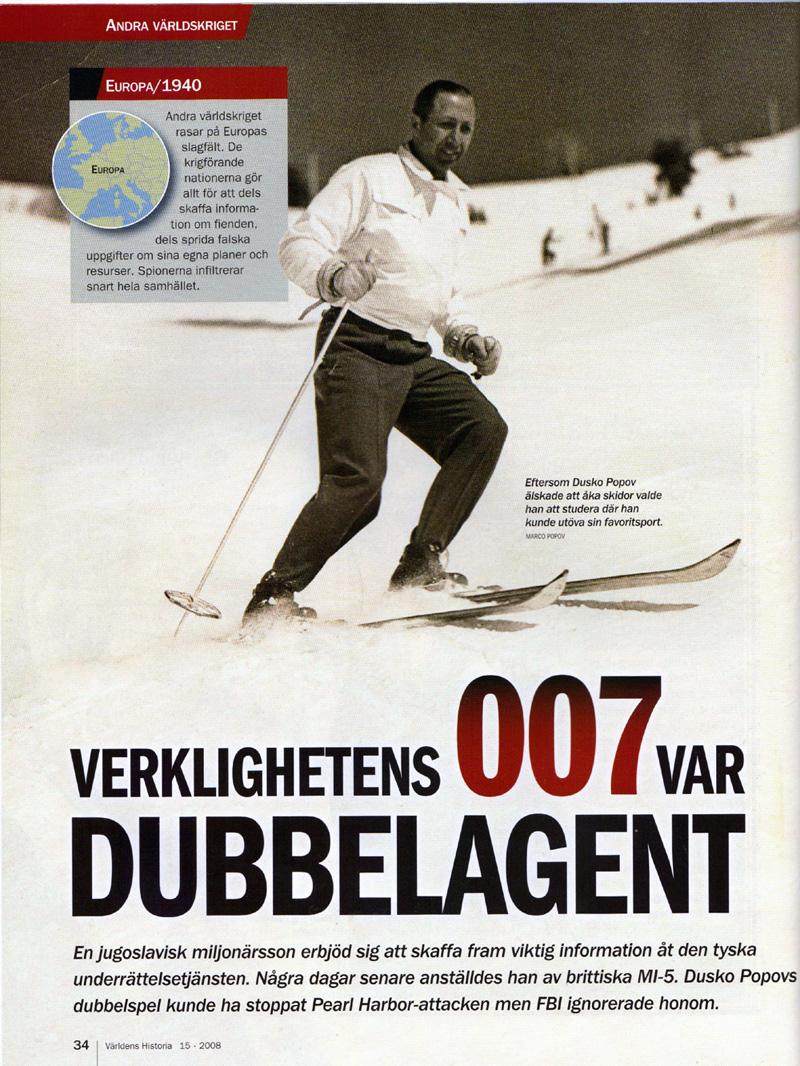 Verklighetens 007 var Dubbelagent?
varldenshistoria.se/kriminalitet/spioneri
/dusko-popov-var-verklighetens-james-bond

A number of real-life inspirations have been suggested for James Bond, the sophisticated fictional character and British spy created by Ian Fleming. Although the Bond stories were often fantasy-driven, they did incorporate some real places, incidents and, occasionally, organisations such as SMERSH
Serbian double-agent, known also as 'Tricycle' ...
was the codename of DUSAN DUSKO POPOV a serbian agent working for MI5.

A number of real-life inspirations have been suggested for James Bond, the sophisticated fictional character and British spy created by Ian Fleming. Although the Bond stories were often fantasy-driven, they did incorporate some real places, incidents and, occasionally, organisations such as SMERSH.
Every year, from the publication of Casino Royale in 1953 until his death in 1964, Ian Fleming would holiday at "Goldeneye", his Jamaican house, where he would write a James Bond novel. Fleming was a bird watcher, and owned a copy of Birds of the West Indies, by the American ornithologist James Bond. Later explaining appropriating the name for his literary character, he said the name was "brief, unromantic, Anglo-Saxon, and yet very masculine — just what I needed". In the film Die Another Day (2002), agent 007 (Pierce Brosnan) picks up a copy of Birds of the West Indies in Cuba, then poses as an ornithologist.

Fleming never claimed another source for the "James Bond" name; however, there was a James Bond who attended Fettes College, Edinburgh, Scotland. Fettes is the second school the fictional James Bond attended after expulsion from Eton College because of womanizing, parallel to Fleming's Eton career. The Fettes alumnus, James Bond, was a frogman with the Special Boat Service, much as the fictional character Bond also has a naval background. The school has his Who's Who entry copied and framed in a main corridor.

From 1929 to 2005 there stood a church in Toronto, on Avenue Road just north of Eglinton Avenue, called St James-Bond United Church. The name was a portmanteau chosen after the union of two congregations. Fleming himself perpetuated the myth that he trained in Canada for special operations during the Second World War; actually, no record exists of his ever visiting Camp X as he claimed.[1]
Varje år från offentliggörandet av Casino Royale i 1953 fram till sin död 1964, Ian Fleming skulle semester på "Goldeneye", hans jamaicanska hus, där han skulle skriva en James Bond-roman. Fleming var en fågelskådare, och ägde ett exemplar av fåglar i Västindien, av den amerikanske ornitologen James Bond. Senare förklarar beslag på namnet för sin litterära karaktär, sa han namnet var "kort, unromantic, anglosaxiska, och ändå mycket maskulin - precis vad jag behövde". I filmen Die Another Day (2002), plockar agent 007 (Pierce Brosnan) upp ett exemplar av fåglar i Västindien på Kuba, sedan poserar som en ornitolog.

Fleming hävdade aldrig en annan källa för "James Bond" namn, men det var en James Bond som deltog Fettes College, Edinburgh, Skottland. Fettes är den andra skolan den fiktiva James Bond deltog efter utvisning från Eton College grund av womanizing, parallellt med Flemings Eton karriär. Den Fettes alumn, James Bond var en grodman med Special Boat Service, mycket som den fiktiva karaktären Bond har även en marin bakgrund. Skolan har sin Vem är vem inträde kopieras och inramade i en huvudsaklig korridor.

Från 1929 till 2005 finns stod en kyrka i Toronto, på Avenue Road strax norr om Eglinton Avenue, som kallas St James-Bond United Church. Namnet var en kappsäck valdes efter en förening av två församlingar. Fleming själv förevigat myten om att han tränade i Kanada för speciella operationer under andra världskriget;. Egentligen finns inga uppgifter om hans ständigt besöka Camp X som han påstod.
Popov was born 10 July 1912 in Titel, Austro-Hungary (now Serbia), to a wealthy Serbian family. He had an older brother, Ivo – also a double agent, professionally trained as a physician, during World War II – and a younger brother, Vladan. The Popov family moved to Dubrovnik when Duško was very young.
He spoke fluent German and had many highly placed German friends, but secretly despised the Nazis after earlier unpleasant brushes with them during his university years in Freiburg.[3] Popov had earned a Ph.D. in Law there, and then returned to Dubrovnik to practice briefly as an attorney [4].