Gunnar Schäfer name is James Bond Visitors in James Bond Museum Sweden

.

Since 1959 James Bond 007 Museum Sweden, Nybro.
The 007 museum 1000 sq.m. world`s only James Bond 007 Museum
Emmabodav. 20, 38245 Nybro


Contact: 007museum@telia.com
Phone+4648112960 Open Daily 10-17 Sat 10-14 Media To do and see Buy/Köp info Links
James Bond Theme Party PPKGuns Omega Bmw Bollinger Corgi, Cd, Swatch Posters, Specials James Bond store
James Bond's cars by Gunnar Bond James Schäfer


Die Another Day cars: Ford Thunderbird, Aston Martin Vanquish, Jaguar . (Photo: Gunnar Schäfer)
For a James Bond movie to succeed - and for 40 years, every one has - a certain mix of ingredients is vital.
There must be an arch villain, accompanied always by evil henchmen or alluring female accomplices as he pursues his nefarious scheme. There must be beautiful women for Commander Bond to be smitten by. An arsenal of high-tech gadgetry. Shaken but unstirred vodka martinis.
And fast cars. Whether played by Sean Connery, Pierce Brosnan or any of the other Bond actors, Secret Agent 007 always drives fast cars.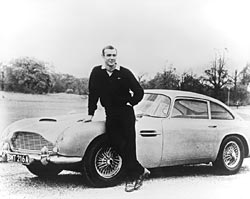 Sean Connery and Aston Martin DB5.

Rides to Remember, But Do You? (answers below)
What colour was the Sunbeam Alpine roadster driven by James Bond in Dr. No?
In The Spy Who Loved Me, did Agent 007's submarine start life as a Lotus Elite, Lotus Esprit or Lotus Eclat model?
In which movie did the super sleuth drive a BMW Z3 roadster?
Bond babe Tracey Di Vicenzo (Diana Rigg) operated a Ford Motor Company model in On Her Majesty's Secret Service? Name its make and model.
In Thunderball, what type of weaponry was mounted on Fiona Volpe's BSA Lightning motorcycle?
In The Man With the Golden Gun, the villain Scaramanga escaped by converting this car into an airplane.
Name the make and model of the motorcycle that James Bond jumped between buildings in Tomorrow Never Dies.
What vehicle did Agent 007 drive by remote control in The World is not Enough?
In Goldfinger, how did the villain Auric Goldfinger smuggle gold?
What exoticar did Xenia Onatopp drive in the race scene near the beginning of GoldenEye?
Long-time moviegoers may still associate the suave super sleuth with the ejection seat-equipped Aston Martin DB5 he steered in Goldfinger (1964). In Die Another Day, Bond is back in an Aston Martin, this time a limited-edition Vanquish model.

But there have been many other cars - and much stranger vehicles - in which Bond has maintained his unflappable demeanour amid the wildest of chases.

In 1971's Diamonds are Forever, Bond, played by Sean Connery, calmly flipped a '71 Ford Mustang Mach 1 up onto two wheels to squeeze it through a narrow Las Vegas alley. In the same movie, he made an unexpected escape in a stolen moonbuggy.

In 1973's Live And Let Die, Roger Moore made his first appearance as Agent 007 and jumped a Glastron speedboat over a Louisiana sheriff's patrol car. For an encore, he used a low bridge to convert a double-decker London bus into a single-decker during a lively chase sequence.

Perhaps inspired by his previous automotive antics, Bond used an unlikely vehicle, an AMC Hornet, to perform an incredible 360-degree, barrel-roll jump across a Bangkok canal in The Man With The Golden Gun (1974).

In The Spy Who Loved Me, 007 adopted a sleek Lotus that transformed itself into a submarine at the touch of a button, a vehicle almost as famous as his Goldfinger Aston Martin. In the same 1977 movie, Bond rode a Wetbike, the conceptual forerunner of today's personal watercraft.

In the category of Most Unlikely Chase Vehicle, the winner must be the Citroen 2 CV model used by 007 and Melina Havelock to career down a mountainside in 1981's For Your Eyes Only. Equally amusing was the Renault taxi commandeered by Bond in A View To A Kill, which somehow managed to continue driving after it was cut in half. This 1985 instalment was Roger Moore's seventh appearance as the secret agent.

The adaptable Bond (Timothy Dalton this time) had no trouble piloting a Kenworth gasoline tanker in License To Kill (1989). In 1995 Pierce Brosnan assumed the Bond role, driving a Russian tank in GoldenEye and jumping a motorcycle between buildings two years later in Tomorrow Never Dies.

All in a day's work, really. From the beginning, automobiles in Bond's movies have had an iconic status. According to Robert Thompson, a popular culture expert and professor of media and culture at New York's Syracuse University, this helped make them an early success.

"One of the reasons James Bond movies work so well for an American audience, in spite of their international settings, is that James Bond has a North American's relationship to his automobiles," says Prof. Thompson. "They are an extension of his powerful and suave personality and often the means by which he achieves his freedom."

Nick Nguyen is a master's graduate of Carleton University's Film Studies program and a film conservator at the National Archives of Canada. He notes that Bond's cars are an "integral part of his arsenal" and suggests Bond's early use of an Aston Martin reinforced his "Britishness." His move to other cars, including BMWs, in later films emphasized 007's multinational appeal. On the consumer level, Mr. Nguyen says, Bond's cars help define a "masculine ideal that reflects a sleek and sophisticated playboy image."

The significance of the Bond-car phenomenon has not been lost on the commercial world. In 1965, Corgi released its scale model of Bond's gadget-laden DB5 from Goldfinger. Nearly four million copies were sold by 1968 and the DB5 remains Corgi's best-known model. Subsequent Bond vehicles are an important part of Corgi's current line.

The payoff has been even larger for automakers. For decades, they've capitalized on the advertising value of placing their vehicles in television shows and movies. Clearly, a vehicle's use by a character in a TV show has a better promotional payoff than that achieved by simply sponsoring the show.

It was no accident that Miss Jane Hathaway drove a Dodge convertible in The Beverly Hillbillies. Chrysler Corp. supplied all the unmodified cars used in the series.

In the same manner, detective Jim sported a new Pontiac Firebird in each season of The Rockford Files. How many Corvettes were sold because of the car's prominent use in the 1960s TV series Route 66? How many buyers flocked to Alfa Romeo showrooms after watching angst-ridden Benjamin Braddock (Dustin Hoffman) drive a red Duetto Spider in The Graduate?

In the 1960s, Jaguar probably wondered how many Volvo P1800 sales were stimulated when The Saint hit TV screens. Perhaps ill-advisedly, the leaping-cat company declined a request from the series' producers for an XKE model for lead character Simon Templar.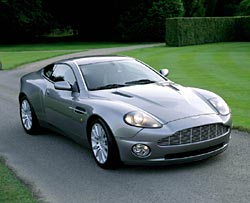 Aston Martin Vanquish.

Now, in Die Another Day, Ford Motor Company has achieved a product-placement hat trick. The movie's three star cars are all Ford products (Ford bought Aston Martin and Jaguar in the late 1980s). Bond's Aston Martin Vanquish model is fitted with the latest weaponry including machine-guns and missile launchers. One of 500 hand-assembled but unarmed copies of this car can be yours, should you have the $345,000 price of admission.

Bond's nemesis in Die Another Day, the evil Zao, flits about in another prestigious British conveyance, a Jaguar XKR painted in the same green colour used on Jaguar Racing's current Formula One race car.

Ford suggests potential customers will picture themselves as international spies as soon as they jump into the driver's seat. Should you be planning to emulate Zao's dastardly deeds, a 2002 Jaguar XKR, minus the firepower, will drain your bank account to the tune of $104,500 (coupe) or $113,500 (convertible).

If you think the Aston Martin and Jaguar star cars seem unusually competent in the winter-driving scenes in Die Another Day, you're right. To help keep them on the straight and narrow, both vehicles were converted to accept the four-wheel-drive system from the Ford Explorer.

In Die Another Day, the obligatory Bond babe is Jinx, a.k.a. actress Halle Berry. Her vehicle of choice is a coral pink Thunderbird convertible. The movie car has inspired Ford to offer 700 special 2003 Limited Edition 007 Ford Thunderbirds. Each will feature coral paint, 21-spoke chrome wheels, white seats and subtle 007 badges.

Not to be outdone, Revlon has announced the release of its all-new Limited Edition 007 Colour Collection, a product line fronted by Halle Berry that will be on cosmetic counters in time for Christmas gift giving.

The Bombardier Ski-Doo® MX Z-REV snowmobile is featured in the new James Bond movie: Die Another Day.- November 4 2002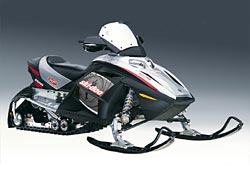 Specification
600 H.O. Rotax twin
DPM electronic carburetion
Electric start
RER electronic reverse
Electric temperature and fuel gauges
The 2003 MX Z-REV 007 special edition is based upon the MX Z-REV Sport package, and is enhanced with the following features:
Black and silver body panels and seat
Red accents
Chrome windshield and idler wheels
Special Ski-Doo-exclusive 007 decals
Coordinating 007-Ski-Doo sled cover
Bombardier MX Z-REV 007 Special Edition. article

Honourable mention for product placement in Die Another Day must go to Canada's Bombardier Inc. Its MX Z-REV snowmobile is featured prominently in wintery Icelandic action scenes. According to the movie's producers, this stock Bombardier model answered the need for "a sophisticated snowmobile with a high-tech edge." Not surprisingly, Bombardier is making a specially trimmed "007 Special Edition" variant of this sled available, on a one-per-dealer basis, at a suggested retail price of $11,249.

Bombardier snowmobiles have also appeared in the movies XXX and Santa Claus II and the company's personal watercraft have been used in the Baywatch TV series.

Nick Nguyen observes that the James Bond movies feature many brand-name consumer items, in addition to cars. From a commercial perspective, he suggests, product-placement fees are welcomed by film studios facing increasing costs to produce such movies.

Bombardier Ski-Doo MX Z-REV Snöskotern har en framträdande plats vid inspelningen på Island i actionscener i Die Another Day 2002.
Enligt filmens producenter, besvarade Bombardier modell behovet av "en sofistikerad skoter med en högteknologisk skärpa." Bombardier gjorde en speciellt trimmat "007 Special Edition" variant av denna släde med skenor, rekommenderat pris på $ 11,249.

Bombardier designers kept special agent James Bond in mind when developing the look of this special edition model - a black and silver body accented with red and chrome. Bombardier designers förde särskilda agent James Bond i åtanke när de utvecklar utseendet på denna specialutgåva modell - en svart och silver kropp accentuerat med rött och krom.

The actual snowmobile (which was yellow and black) used in the movie is now on display in The National Motor Museum at Beaulieu, UK, as a part of a special exhibition on Bond Vehicles and Props. Den faktiska skoter (som var gul och svart) som används i filmen finns nu att beskåda i National Motor Museum i Beaulieu, Storbritannien, som en del i en särskild utställning om Bond Fordon och rekvisita.

But 007's vehicles, he believes, have taken on a more crucial role than other products in the movies' popular and financial success. "Bond's recent cars, especially those driven by Pierce Brosnan, serve a commercial objective rather than a narrative purpose," he explains. For moviegoers, "the whole point of buying these cars is to exploit their specific association to the Bond films, wherein the car becomes the ultimate commodification of the Bond experience outside of the cinema and on the roads."
Blue
Lotus Esprit
GoldenEye
Mercury Cougar
Rocket launchers
AMC Matador
BMW R1200
BMW Z8
By casting it into parts for his Rolls-Royce
Ferrari 355
Peugeot 205 GTI :
James Bond contre le Bombardier
The Bombardier Ski-Doo® MX Z-REV snowmobile is featured in the new James Bond movie: Die Another Day.
- November 4 2002
Copyright © 1959-2017 www.007Museum.com All Rights Reserved







James Bond 007 Museum Nybro, Sweden . www.007museum.com
Contact: 007museum@telia.com tel. +46-481-12960 .Open Daily 10.00 - 17.00 (lunch 13-14) Sat 10.00-14.00
Adress: James Bond 007 Museum, Emmabodav.20, 382 45 Nybro, Sweden 0481-12960
James Bond Materials© 1962 - 2017 United Artists Corporation and Danjaq, LLC. 007 Gun Logo© 1962 United Artists Corporation and Danjaq, LLC. 007 Gun Logo, Iris Logo,
JAMES BOND and all other James Bond related trademarks - Danjaq, LLC. All Rights Reserved. Copyright