Gunnar Schäfer name is James Bond Visitors in James Bond Museum Sweden

.

Since 1959 James Bond 007 Museum Sweden, Nybro.
The 007 museum 1000 sq.m. world`s only James Bond 007 Museum
Emmabodav. 20, 38245 Nybro


Contact: 007museum@telia.com
Phone+4648112960 Open Daily 10-17 Sat 10-14 Media To do and see Buy/Köp info Links
James Bond Theme Party PPKGuns Omega Bmw Bollinger Corgi, Cd, Swatch Posters, Specials James Bond store
James Bond Sells BMW 323 Convertible with Registration Number 007 JB, From The James Bond 007 Museum in Sweden Nybro.
007 JB Regnummer BMW 323 Ci Convertible (2000) Made 200,007th
007 JB Regnummer BMW 323 Ci Cabriolet (2000) Tillverkad 200007
Reg.nr.
007 JB
Effekt
125kW / 170HK
Fabrikat
BMW
Modellår**
2000
Modell
323I CAB MJ00
1:a i trafik
2000-08-03
Typ
PB / Cabriolet
Tillv.mån.
200007
Drivmedel
BENSIN
Färg (314)
RÖD
Växellåda
Manuell
** Modellår är baserat på uppgifter i Trafikregister och information från tillverkaren.

Ägare: JAMES BOND SWEDEN NYBRO

Enda röda exemplaret med kromade lister och nummerhållare.
Endast sommarkörd,
Mr Cap behandlad.

James Bond Sells BMW 323 Convertible with Registration Number 007 JB From The James Bond 007 Museum in Sweden Nybro.

James Bond säljer BMW 323 Cabriolet med registreringsnummer 007 JB, från James Bond 007 museum i Sweden Nybro.
Modell: BMW 323 Ci Cabriolet (2000)
Årsmodell: 2000 Tillverkad 200007
Mätarställning:
Färg: RÖD (314)
Karosseri: Cabriolet
Pris: 250.000 kr Euro: 25 000
Info: Xenonljus, ACC/klimatanläggning, ABS bromsar,
Airbag förare & passagerare, Sidoairbag, Antisladdsystem,
Fjärrstyrt Cenral-lås, Elhissar, Elspeglar, Elstolar, Farthållare,
Färddator, Larm, LM-fälgar, , Multifunktionsratt, Regnsensor, Servostyrning, CD-stereo, Stolvärme fram, Yttertemperaturmätare. Läder klädsel. Ädelträ, Bmw business Cd, HiFi-högtalare.
Vindskydd, Chrome Line, Montana skinn Läder klädsel, Sportfjädring, BMW Sportstolar, Svart sufflett,

Färg: RÖD (314)
Mil: 7700
Stad: Nybro
Pris: 250 000 kr (nypris 439 000:-)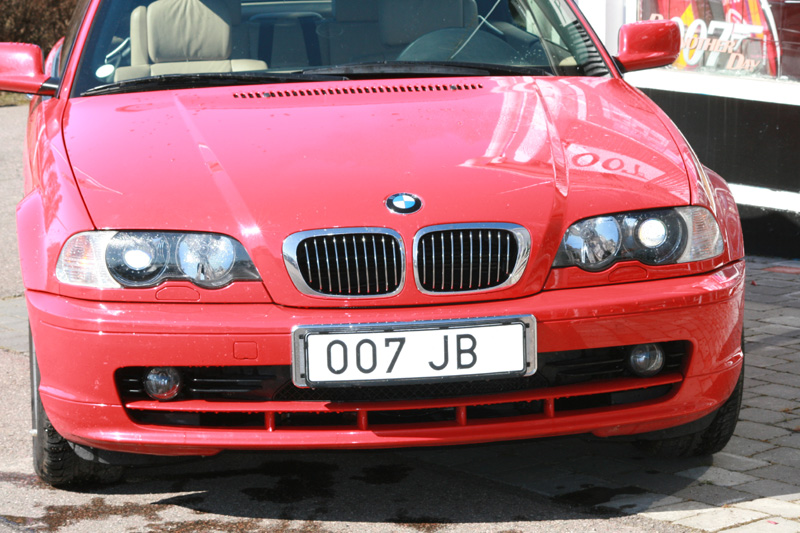 | | |
| --- | --- |
| | |
| BMW Z3 Roadster 1.8 Litre on set during the filming of Goldeneye. | Brosnan on set with the 1995 BMW Z3 Roadster. |
Modell: BMW Z3 Coupe` (1995)
Årsmodell: 1995
Mätarställning: 800 mil
Färg: Atalanta blåmetallic
Karosseri: Sportkupé
Pris: Ej till salu!
Info: ACC/klimatanläggning, ABS bromsar,
Airbag förare & passagerare, Sidoairbag, Antisladdsystem,
Fjärrstyrt c-lås, Elhissar, Elspeglar, Elstolar, Farthållare,
Färddator, Larm, LM-fälgar, , Multifunktionsratt, Regnsensor, Servostyrning, CD-stereo, Stolvärme fram, Yttertemperaturmätare, Tyg klädsel ljusblå, silverpanel,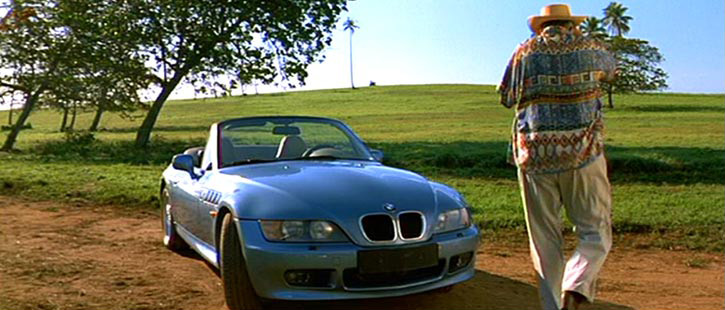 Copyright © 1959-2017 www.007Museum.com All Rights Reserved







James Bond 007 Museum Nybro, Sweden . www.007museum.com
Contact: 007museum@telia.com tel. +46-481-12960 .Open Daily 10.00 - 17.00 (lunch 13-14) Sat 10.00-14.00
Adress: James Bond 007 Museum, Emmabodav.20, 382 45 Nybro, Sweden 0481-12960
James Bond Materials© 1962 - 2017 United Artists Corporation and Danjaq, LLC. 007 Gun Logo© 1962 United Artists Corporation and Danjaq, LLC. 007 Gun Logo, Iris Logo,
JAMES BOND and all other James Bond related trademarks - Danjaq, LLC. All Rights Reserved. Copyright